---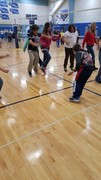 A group of students playing around the world.
---
Out Jump Drugs
On Friday, October 30 the kindergarten through sixth graders participated in an event called "Out Jump Drugs," sponsored by the ABC/PTO. This was an event to help celebrate Red Ribbon Week.The students all came to the gym and for about 30 minutes the did activities with jump ropes. They started by free jumping. After that they split into groups and did limbo with their jump ropes. Following that they did jump rope relays and finally they played either around the world or snakey snake.
ABC/PTO not only wanted to say NO to drugs but YES to healthy choices. One healthy choice students can make is to exercise. The organization hopes that all the kids use their new jump ropes to exercise and stay healthy.
Thanks to Alicia Luther and Kathy Potter for coming in to help. A special thanks to all the teachers and staff that helped make this successful: Mrs. Remmenga (for leading K-3), Mrs. McCarter, Mrs. Cordes, Ms. Losey, Mrs. Eilers, Mr. Heusinkvelt, Mrs. Bennett, Mrs. Davenport, Mrs. Cox, Mrs. Shubert, Mrs. Ditson, Mrs. Ryan, Ms. Castellanos.
The next ABC/PTO meeting will be November 19 at 7:00 in the commons area. Remember that it is important to know that if you have a PK - 6 grade student you are part of this group. All of the activities we do, we need volunteers for. There has been a strong core of 10 to 15 parents that make this group possible but they are getting burnt out. If we want to continue having opportunties for the students we need more parents to become active. Our next fundraiser will be the Wreath Raffle. Tickets will go home Novembe 20. We will be raffling off three wreaths. Each family needs to sell ten tickets. If you would like more tickets let Mrs. Wallace know.