---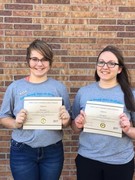 Hannah- 1st Creed Speaking, Jordan- 2nd Elevator Speech
---
Overton FCCLA Attends District Leadership Conference
On the 18th of October, the District 10 FCCLA Leadership Conference took place at the south campus of Mid-Plains Community College in North Platte. Thirty-one students from Overton participated in the leadership conference along with chapter members from Brady, Callaway, Cozad, Maxwell, Mullen and Thedford.
The morning activities included a welcome from representatives of the college and the state officer team. The District 10 Officers were also installed, including Vice President of Special Projects Hannah Smith from Overton.
After the officer installation, members from each chapter went out into the community of North Platte and participated in various community service events. Several Overton students had the opportunity to spend time with the residents of Premier Estates Senior Living. During their time at the care center, members were able to interact with the residents- painting their fingernails, playing card games and sharing stories with the residents. Other students from Overton spent the morning working at the Salvation Army, helping the staff clean, organize and stock the food pantry and food storage areas, clean and landscape the yard and clean the kitchen area. The Overton Chapter members really enjoyed their time serving others and look forward to more experiences like this in the future.
In the afternoon, students were able to learn more about FCCLA and work on developing leadership skills by attending breakout sessions led by the State Officer and State Peer Officers. During the closing session, winners for the individual and team events were announced. Overton received 1st place for the poster contest, 1st place for the raffle bucket decorating contest, Hannah Smith earned 1st place in the Creed Speaking Contest and Jordan Bidwell earned 2nd place in the Elevator Speech contest.
Attending from Overton were Sarah Cox, Jordan Bidwell, Dilan Smith, Sidney Enochs, Carrie Jewett, Diana Perdomo, Jaycee Wallace, Nathan Seberger, Lilly Nelms, Amaris Crandall, Cande Bueno, Haley Einspahr, Megan Zulkoski, Austin Haussler, Madi Brandt, Christian Smith, Hannah Smith, Rebecca Zeleski, Calli Weston, Abby Lawton, Angel Brummet, Kylie Furby, Angie Melo, Natalie Arredondo, Peyton Eby, Jada Arauo, Shaylee Lux, Violet Nelms, Moncia Sarratt, Alexz Rodriguez, and McKenzie Jarmin. Adult sponsors were Daral Cox, Judy Weston, Terah Smith, Amy Barnes and adviser Angie Ehlers.