---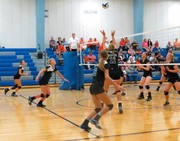 Sidney Enochs preparing to run the offense with three ready attackers
---
Parents Night - Cambridge Dual - September 10th
On Thursday September 19th, parents of all volleyball players and team members were honored for their support and encouragement of the team this year. We appreciate all of the families who came out and made it a special night. C, JV and Varsity were able to play Cambridge and everyone got a chance to show their skills.
Varisty action went four sets, 20-25, 25-17, 21-25, 10-25, as the Eagles fell to the Trojans. The game was very up and down and a learning experience for the girls.
Stat Highlights
Team Kills: 33
Aces: 6
Blocks: 6
Digs: 56
Congratulations to Mackenzie Beavers for being chosen as the Player of the Match!